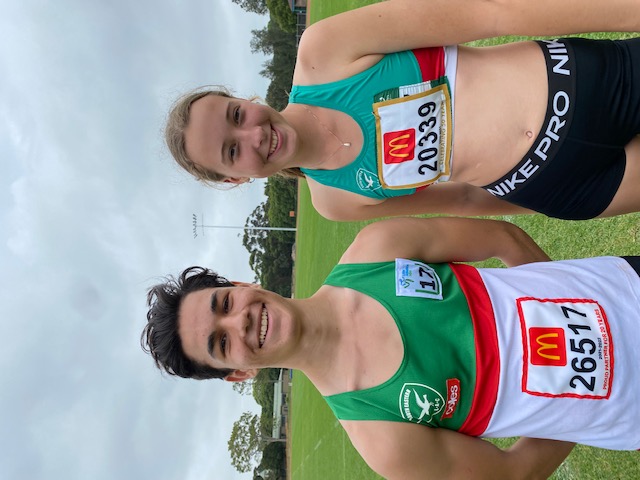 The Club Captains for 2021/22 are Kitty Green and Josh Ralph
Would you like to apply for SELAC Club or Vice Captain for the 22/23 Season?
If Yes - then here is what you need to do:
To be eligible to apply you must be an athlete competing in the U17 age group in season 22/23.
Write a short paragraph (no more than 200 words) telling the club about yourself, including how long you have been with the club, what you have achieved at the club, how you have supported the club and why you would make a great club captain.
Once complete please send your entry to info@southeasternlac.org.au
All entries need to be in by 4pm Sunday 27th of March 2022.
What is the next step?
Once we have the entries, we will post the entries on a voting website and all eligible members and officials will vote.
The results will be announced on presentation day.
Good luck!!
The SELAC Committee
New criteria and selection process for SELAC Captain roles (postponed until after Season 22/23)
Objective: To align the role and responsibilities of the Club Captain to the values of SELAC (fun, teamwork, PBs and inclusive) and to demonstrate the behaviour of a volunteer and leader.
Captain x2 and Vice- captains x2
Nomination criteria:
Any athlete the U15 and U17 age groups
Non- gender specific in selection
Selection will be via nomination and then 2. an interview with an interview panel consisting of (1) President, (2) Vice President, and the following panel members who will remain anonymous until the interviews (3) a SELAC parent, (4) an age Marshall and (5) another athlete from u15 or u17. NB: Panel members will not be presenting if their child/ren nominates for captaincy/vice-captaincy in a given year.
Responsibilities of the Captains and Vice-Captains
Shared responsibilities:
of weekly duties including warming up and aiding younger athletes with skill development;
when possible assist coaches at mid-week training sessions;
at Club Champs and helping committee/volunteers with duties on the day/s of competition;
at zones, regionals and attempt to qualify for State, including March past practice and set up as well as warm-up and cool down duties;
26 October 2021
in the organisation of the Christmas party and Presentation Day;
in organising min. 2 x fundraising activities during the season;
represent and compete at higher level beyond Saturday morning competition, where possible;
* it is expected that the Captains and Vice-Captains be autonomous, however consultative with the President and Committee Members when developing ALL initiatives to be undertaken
As of next year, nominations need to be received, via the Age Marshalls, before the end of the season. This will be followed by interviews which will be held in the week after State (early April 2022) and recognition of new captains and vicecaptains will be made at Presentation Day
This year: I would like to get started and ask for 4 Senior Athlete to volunteer in the organisation of at least one fundraising activity for this season.