Presentation Day CANCELLED
Trophy winners to be announced soon.
---
SELAC results at the State Combined Events Carnival at Tamworth
SELAC results at the State Combined Events Carnival at Tamworth
1st U9 Girls - Elise Green
1st U7 Boys - Lachlan Chappell
7th U10 Girls - Siena Novak
8th U12 Boys - Charlie White
9th U15 Girls - Kitty Green
9th U12 Boys - James Vass
9th U8 Boys - Gerry Joseph
13th U 12 Boys - James Purchas
14th U14 Girls - Thea Green
17th U10 Girls - Lauren Heaney
---
Zone Results
Hey team,
Please see the GREAT result from the zone carnival from last weekend:
The Point Score is as follows:
1st Balmain 4,004 points
2nd South Eastern 2,600 points
3rd Eastern Suburbs 2,009 points
4th Canterbury 1453 points
5th Randwick Botany 1,182 points
6th Inner West 1,093 points
7th Tiger Wests 263 points
I think it's important to remember that Balmain has almost 900 kids. It's a great result that we're in front of Eastern Suburbs, Canterbury and Randwick Botany. Congratulations to all the athletes who have made it through to region and please remind those other athletes that there are still spots up for grabs after the carnival this weekend held at Met South.
Regions (like ours) with two zones will have six automatic places progress through to their respective regions. So 1st to 6th placegetters have already qualified (except U7 who do not progress to Region). Then a maximum of four next best qualifiers from each region will also be taken through to the respective regions. Making a total of up to 16 athletes in each event at each region.
The team for the Regional Carnival will be advised shortly.
The results for the Zone Carnival are here.
Regards
The SELAC Committee
---
Welcome to the New Season
Dear Members,
Welcome to the start of the Little Athletics season at SELAC. This year is our 32nd season of competition. We hope you enjoy your time with us on a Saturday morning for the next few months. For those of us who are returning to the Club, please make our new members feel welcome. Please save our Club Calendar for the Season's program.
All our communication will be conducted via our SELAC website AND our Facebook page (especially all urgent matters such as wet weather and training changes).
Our Club's focus this season continues to be:
1. Create a fun and safe environment for our Little Athletes to learn the disciplines of athletics
2. Support our Little Athletes in individual improvements for all the events within their age groups, via personal bests (PB's). We are also continuing the weekly challenge on personal bests. Please note: Centre records will need to be signed off by selected individuals before being recorded as a centre record.
3. Encourage team contribution via (a) participation in the State Relay championships and the Zone Championships and (b) our annual team award.
Volunteers:
There is no heart stronger than the heart of a volunteer.
The success of our Club is highly dependent on volunteers. You are requested to stay at the track during the Saturday program and help out wherever you can. This year, each age group will also need to provide a minimum of 3 volunteers to assist at the Club's canteen on a rotational basis. This week it's the U12 group. The allocation of age groups for the Canteen will be placed on the notice board from next week and will also appear on our website.
We have also decided that a specific age group will need to remain at the Hurdles until the completion of this event during Program 1 to assist in the setting up and modification of the short hurdles for ALL age groups. Anne Saville and Karen Mitchell will be on hand with heights and distances. This week it's the parents of the U8s girls and boys teams to stay at the Hurdles.
Program 1 for this week will consist of:
Hurdles, 70m, 200m and 800m races (not graded)
7:30am: Set up equipment and warm up by EVERYONE
7:50am: Briefing
8:00am: Start of program
10:30-11:00am: Finish
Age marshals will be your first point of contact for the Club. It is expected that all parents help them to deliver the program starting with the set-up of equipment at 7:30am.
Training
Mondays and Tuesdays
E.S. Marks (meet at the Finish line, with Anne Saville) (please note a $5 entrance fee is payable to train on the track)
4.00 – 5.00pm
Tuesdays from 15th October (with Ang Beecroft)
Moore Park (meet at the Korean Monument)
5.00pm
Upcoming events:
12th October (for 3 weeks ONLY): Registration starts for Club Championships
2nd and 9th November: Club Championships (all U7s and over athletes are eligible) and Relay Championships (selected teams). Once teams are selected, training will begin during the 4 weeks leading up to the Relay Championships on 16-17 November at Homebush (Olympic Park). Further details will be provided.
16th to 23rd November: Zone registrations
Thank you to all committee members and age marshals for your contribution during the off-season to ensure we kick off the season successfully.
Wet weather updates will be posted on our Facebook page or please visit our website.
Looking forward to seeing you all this Saturday
Regards
The SELAC Committee
---
Senior Athletes
Dear Athletes,
We have the pleasure to announce a partnership with Senior Club - Athletics East for endurance training and dual registration.
Athletics East is the result of a merger of 3 local athletic/running clubs that have history going back to the early 1900's.
The Club has had had several notable successes with City To Surf winners, Olympic representation, State & National champions. Having said that it are an inclusive club with the philosophy to develop all athletes, helping them to reach their potential regardless of age or ability.
The clubs Head Coach, Peter Good, is a Level 4 Specialist Coach (Middle distance). Peter has over 40 years coaching experience.
Peter is looking forward to coaching our middle distance athletes this season as well as welcoming those senior athletes who would like to take a dual membership with his Club. Information regarding middle/long distance training with Peter will be provided before the start of the season.
For further information please contact Karen Mitchell in 0401 656 400.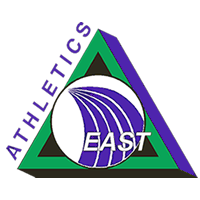 ---