Senior Athletes
Dear Athletes,
We have the pleasure to announce a partnership with Senior Club - Athletics East for endurance training and dual registration.
Athletics East is the result of a merger of 3 local athletic/running clubs that have history going back to the early 1900's.
The Club has had had several notable successes with City To Surf winners, Olympic representation, State & National champions. Having said that it are an inclusive club with the philosophy to develop all athletes, helping them to reach their potential regardless of age or ability.
The clubs Head Coach, Peter Good, is a Level 4 Specialist Coach (Middle distance). Peter has over 40 years coaching experience.
Peter is looking forward to coaching our middle distance athletes this season as well as welcoming those senior athletes who would like to take a dual membership with his Club. Information regarding middle/long distance training with Peter will be provided before the start of the season.
For further information please contact Karen Mitchell in 0401 656 400.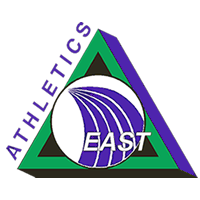 ---
Trialling Little Athletics
If you are new to Little Athletics and you are not sure if your child will like it, SELAC offers a two week trial.
Competition and trials will commence on 21st September 2019 at 8am. You will need to provide details (name, gender, date of birth, contact number and name of parent) of the child or children trialling and sign a form which will be at the registration desk. Please email (info@southeasternlac.org.au) this information and the information provided will be prefilled on the triallist form.
New athletes can trial free for any 2 weeks within our trial period from 21st September to the end of October 2019. Hopefully they will love it and join up.
Regards
Robyn Morris
For the SELAC Committee
---
Day 2 - State Championships
Results Summary - Sunday
Junior Boys 4x100m relay 1st (Josef, Bailey, Jack and Oliver)
Tamsin Colley 1st U15-17G multiclass 800m
William Moir 1st U15B high jump
Rudi Blackley 2nd U11G 1100m walk (centre record)
Tamsin Colley 2nd U15-17 multiclass discus
Tamsin Colley 2nd U15-17 multiclass 100m
Audrey Khamphet Pearse 2nd U10G 200m
Amelie Trope 2nd U12G 200m
Evie Armstrong Reading 3rd U11G 1100m walk
Tonere George 5th U9B discus
Oliver McIntosh 5th U12B 200m (centre record)
Remy Mitchell 7th U9 700m walk (centre record)
Josef Sikora 7th U9 200m
Siena Novak 8th U9G 800m
Katherine Johnson 10th U14G 1500m walk
Jack Johnson 10th U11B 800m
Nefertari Washington 10th U12G shot put
Eleanor Miller 14th U17G 800m
Talia Shapiro 16th U14G high jump
Jack Johnson 18th U11B high jump
Joshua Tancred 18th U9B 800m
Gus Blackley 20th U9B discus
Tia McIntosh 20th U9G 70m
Alejandro Zanapalis 21st U14B 90m hurdles
---
Day 1 State Championships
Result Summary
Audrey Khamphet Pearse 1st U10G long jump
Audrey Khamphet Pearse 1st U10G 60m hurdles
Alexandra Field 1st U14G 3000m
Tamsin Colley 1st U15-17G multiclass 200m
Lauren Young 2nd U17G 1500m
Oliver McIntosh 3rd U12B 400m
Eleanor Miller 3rd U17G 1500m
Amelie Trope 4th U12G 100m
Leila Maxfield 5th U12G high jump
Tristan McIntosh 5th U11B 60m hurdles
Talia Shapiro 5th U14G long lump
Timothy Stanton-Clark 5th U9B 400m
Leila Maxfield 6th U12G 60m hurdles
Josef Sikora 6th U9B high jump
Jaide Almeida 7th U12G discus
Tonere George 7th U9B shot put
Rebecca Touma 7th U17G long jump
Bailey Hutton 8th U10B 100m
Milana Marsh 8th U11G high jump
Scarlet Mitchell 9th U11G 60m hurdles
Oliver McIntosh 11th U12B 100m
Charlton Song 11th U12B long jump
Alejandro Zanapalis 12th U14B javelin
Tristan McIntosh 14th U11B triple jump
Ronin Khamphet Pearse 15th U12B 60m hurdles
Siena Novak 16th U9G 400m
Jaide Almeida 17th U12G 60m hurdles
Gus Blackley 17th U9B shot put
Sienna Durante 17th U12G 400m
Jack Johnson 17th U11B 400m
Joseph Sikora 17th U9B 100m
Aden Goodridge 18th U14B 400m
Alec Mitchell 18th U9B shot put
Coby Stephenson 19th U15B 400m
Nefertari Washington 20th U12G discus
William Moir 20th U15B long jump
---
Welcome to the New Season
Dear Members,
Welcome to the start of the 2018/19 Little Athletics season, at SELAC. We hope you enjoy your time with us on a Saturday morning for the next few months. For those of us who are returning to the Club, please make our new members feel welcome.
All our communication will be conducted via our SELAC website www.southeasternlac.org.au AND our Facebook page (https://www.facebook.com/SouthEasternLACSELAC/) (especially all urgent matters such as wet weather and training changes).
A weekly email, such as this one, will be sent out for regular communication. Please take time to read this one (probably the longest one you will receive) as there's plenty of information regarding upcoming events.
Our Club's focus this season continues to be:
1. Create a fun and safe environment for our Little Athletes to learn the disciplines of athletics
2. Support our Little Athletes in individual improvements for all the events within their age groups, via personal bests. We are also continuing the weekly challenge on centre records. Please note: Centre records will need to be signed off by selected individuals before being recorded as a centre record.
3. Encourage team contribution via (a) participation in the State Relay championships and the Zone Championships and (b) our yearly team award.
Volunteers:
There is no heart stronger than the heart of a volunteer.
The success of our Club is highly dependent on volunteers. You are requested to stay at the track during the Saturday program and help out wherever you can. This year, each age group will also need to provide a minimum of 3 volunteers to assist at the Club's canteen on a rotational basis. This week it's the U12 group. The allocation of age groups for the Canteen will be placed on the notice board from next week, as well as the calendar (insert SELAC Calendar link)
We have also decided that a specific age group will need to remain at the Hurdles until the completion of this event during Program 1 to assist in the setting up and modification of the short hurdles for ALL age groups. Anne Saville and Karen Mitchell will be on hand with heights and distances. This week it's the parents of the U8s girls and boys teams to stay at the Hurdles.
Program 1 for this week will consist of:
Hurdles, 70m, 200m, walks and 800m races (not graded), Boys Javelin, Shot Put, Discus, Long, Jump and High Jump
7:30am: Set up equipment and warm up by EVERYONE
7:50am: Briefing
8:00am: Start of program
10:30-11:00am: Finish
Age marshals will be your first point of contact for the Club. It is expected that all parents help them to deliver the program starting with the set-up of equipment at 7:30am.
Training
Mondays at E.S. Marks (entry fee payable) commencing from 24th September
4.00 – 5.00pm (with Anne Saville includes sprints, Hurdles and/ walks)
Tuesdays at ES Marks (entry fee payable)
5.30pm (with Maxim includes Long and Triple jump) NB: This is currently a private session, the Club will begin paying for training once the numbers increase (for details please email david@effishency.com.au)
Tuesdays (from 16 October) (currently Wednesday)
3:30-4.45pm with Ang Becroft at the Northern end of Moore Park by the Korean War memorial and the rotunda - $5 per session payable to Ang.
High Jump with Wal - details are to be finalised and will be announced when known.
Upcoming events:
From 7th of October: Age Marshall to identify teams to be competing at Relay Championships and communicate with Championships Officers for registration.
From 13th of October: Start of Centre Championships registrations
3rd and 10th November: Club Championships (all U7s and over athletes are eligible) and Relay Championships (selected teams). Once teams are selected, training will begin during the 4 weeks leading up to the Relay Championships on 17-18 November. Further details will be provided.
Thank you to all committee members and age marshals for your contribution during the off-season to ensure we kick off the season successfully.
Wet weather updates will be posted on our Facebook page when the decision to cancel is made. It will then be posted on our website.
Looking forward to seeing you all this Saturday
Regards
The SELAC Committee
---